Released on

Monday, September 25, 1995

Recorded at

Polar Studios, Sweden, March 1995

Producers

Jacob Hellner, Carl-Michael Herlöfsson

Mixed by

Ronald Prent at Chateau du pape

Labels

Motor
Universal (Re-Release)
Slash (US)
XIII Bis (France)

Length

49:26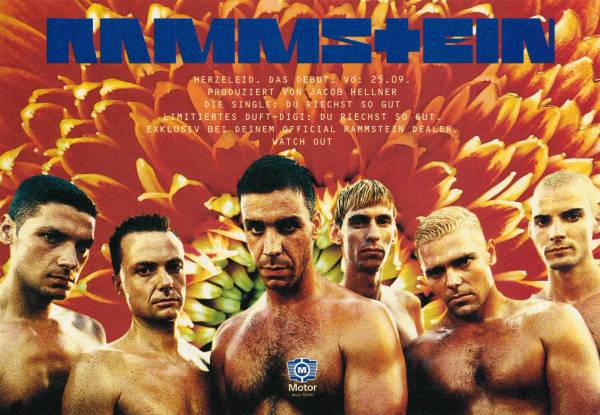 Tracklist
The original cover caused controversy in Germany. The press said that Rammstein depicted themselves in this image as master race. Richard commented: Totally stupid. It's just a photo. Till: We just stood there for a photo, but that it would be so polarizing, brought us down and got on our nerves. But on the other hand, it polarized and stirred people's awareness. Either you liked us, or you thought we were absolute shit. To put it simply: Something's happening. This appealed to us, because it created attention. What could be better for us, than when people notice us?
The North American version had a different cover, comprised of the band members' faces from the inside of the original booklet, placed side-by-side.
The booklet shows six single-member pictures on a white background, which were later combined to form the North American cover of the album.
There are also pages showing flowers. Till said that it was someone's idea to give their relatively Teutonic, warlike appearance some contrast.
The booklet shows the lyrics for Herzeleid, Das alte Leid and Heirate mich in French. According to Till and Schneider, it was a joke. The band's then manager's wife was French and understood the band's lyrics well and translated them to French. The band decided to put them in the album's booklet. In fact, the French translation for the title track is actually a translation of the demo of the song. On some other versions the lyrics for Rammstein, Weißes Fleisch and Seemann are also translated to French.
---
Herzeleid was released on CD and on cassette in many countries.
Some editions of the Herzeleid CD were censored. Some copies had Schulhof and töten beeped out during Weisses Fleisch, and other versions had these words removed from the CD's lyric booklet, but not from the song itself.
The only time Herzeleid has ever been released on Vinyl is on the XXI boxset, and the subsequently released individual LPs from said boxset.
The album was also a part of the famous Riech! box, comprised of the Duftdigipak CD single (a digipack sprayed with CK Obsession perfume), a 3,5 ml mini flacon of the Calvin Klein perfume Obsession packed in its own little cardboard box and a Motor Music press release.
Created from a big bang, an urgency that has gripped all six musicians equally, RAMMSTEIN want to be understood as an indivisible unit. All participants have always made music that had nothing in common with the RAMMSTEIN sound of today. In the East they ignored the work obligations and existed in the niches.
They call this today free game course - in contrast to the safari park of the reunited Germany, where sometimes somebody comes along, who throws a little bit of food. But a little bit of food does not fill the stomach. The RAMMSTEIN musicians come from East Berlin and Schwerin - that's in the North, they still explain helpfully, as if it were a completely foreign country. RAMMSTEIN took place with a tremendous impact, which is equally reflected in the music and the lyrics. At the same time as the group was founded, all partnerships between the musicians broke up and the general living conditions also gave rise to RAMMSTEIN's immanent anger.
RAMMSTEIN write very expressive texts in a wondrously direct language. Powerful and harsh, they push for the greatest possible expression, for pure feeling, driven by their very own musical mixture of programmed beats and metal elements, which they like to call 'dance metal'. RAMMSTEIN is an appeal to pure emotion and inevitably reaches its goal.
In expressions like: You want to see the bed on fire/ You want to drown in skin and hair/ You want to stick the dagger in the sheet/ You want to lick the blood off the sword/ Sex is a battle/ Love is war, and You smell so good/ I'm going after you/ I'll have you in a minute, lies a stoic unconditionality. That her lyrics are very trivial is no understatement. From the point of view of RAMMSTEIN, they are little caresses, love songs, in a perhaps decadent way. When asked how such texts are created, RAMMSTEIN answers laconically: On the typewriter Charles Baudelaire or even Brent Easton Ellis played no role in RAMMSTEIN's life. They write their texts intuitively, without role models One wants to read the German Expressionists for a while, until one had no more time. That is probably the difference between a scholarly and a creative talent: RAMMSTEIN do not manage the heaps of literary history, they pour language onto paper as if it were the first (and last) time. Perhaps RAMMSTEIN are indeed blind to their own work. But it is a fact that some things should not be spoken about in order not to destroy the magic of music.
It is also a fact that RAMMSTEIN have already caused quite a stir with their monolithic metal music, their repetitive-hypnotic steely sound masses, their theatrical-mandatory singing and their lyrics. Already with their first demos they won a studio production in 1993, in 1994 they conquered the East with their ecstatic live show and their desired producer Jacob Hellner, who spontaneously agreed to produce Herzeleid after a gig in the Hamburg logo' although he didn't understand a word of German.
Herzeleid was recorded in April/ May in the Stockholm BomKrash-Studio. Mixed in July at the Chateau du Pape in Hamburg.
And everyone involved agrees: Herzeleid is a groundbreaking debut and RAMMSTEIN is a rush that simply has to be allowed.
Madness is only a narrow bridge/ The banks are reason and instinct This is roughly the quintessence of two thousand years of philosophical history.
The most unusual release: Hinkelstein. As a promotional item, 50 few record stores got a Rammstein menhir. It is about 140cm high and 60cm thick at its thickest part. Front and back show two spaces for about three to five CDs each. The letters Rammstein Herzeleid are clearly visible on back and front. The stone is made of plastic. It was sold a few times on eBay but is one of the rarest promotional items of Rammstein. Two general variants exist; one, painted in the common browns and greys of a rock, and another appears to be pure white, with grey dots and marker pen scribbles. The grey one bares the standard dimensions (140cm high, 60cm thick), but the white variant appears to be much larger at its thickest part, too.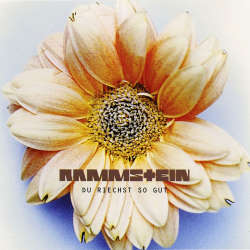 Du riechst so gut
Aug 24, 1995
1.

Du riechst so gut


Single Version

4:50

2.

Wollt ihr das Bett in Flammen sehen?

5:19

3.

Du riechst so gut


Scal Remix

4:45
Du riechst so gut was the band's first official release and first single for then upcoming debut album. The single was also released in the German magazine Visions 9/1995 with alternative artwork (that was also used for Herzeleid album cover). On all releases Du riechst so gut is dubbed as the Single Version. Interestingly, the commercial single includes the standard album version, while the promo CD included a 15 seconds longer version of the song that ended with a fade-out. For the single, the song was remixed by Project Pitchfork and Wollt ihr das Bett in Flammen sehen was included as a b-side. The remix had a different title on the promo cassette, it was called Tricolori Remix or Frecce Tricolori Remix. (Frecce Tricolori is the aerobatic group of the Italian Air Force that collided during their display in Ramstein Airbase in 1988). Reasons for the name change remains unknown. The promo instead had only a demo version of Das alte Leid (then still known as Hallo Hallo).
Translated promo sheet text:
There is hardly a newcomer band that has been talked about as much as RAMMSTEIN. Sure, some will hardly believe it, but the debut album Herzeleid is finally finished.
Produced by none other than Jacob Hellner (Clawfinger), RAMMSTEIN present a spectacular, unprecedented mixture of metal riffs, sex talk, rhythmic lashes and haughty growls. Expressive and powerful images push RAMMSTEIN to the greatest possible expression, the pure feeling, and inevitably reach the goal.
The first sign of life is the CDX Du riechst so gut. For Rammstein conditions, poppy hit for love and suffering on the verge of madness. Peter Spilles from Project Pitchfork contributed the dark hypnotic industrial remix. In the chorus of Wollt ihr das Bett in Flammen sehen Rammstein won't hold back to engrave their own name forever into the memory of the inclined listener. Wonderful!
The single was released as a jewelcase, a digipak and in a cardsleeve (promo version only). The most interesting release is the famous "Riech!" Box. The box contained the "Duftdigipak" CD single (a digipack sprayed with CK "Obssession" perfume), a 3,5 ml mini flacon of the Calvin Klein perfume "Obsession" packed in its own little cardboard box and a Motor Music press release.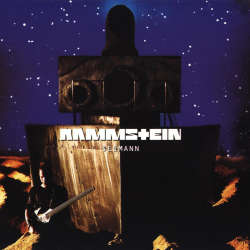 1.

Seemann

4:48

2.

Der Meister

4:10

3.

Rammstein in the house


Timewriter Remix

6:24
Seemann was the band's second single from their debut album Herzeleid.
For the single, the song was remixed by Timewriter. The remix called "Rammstein in the House" is a full-on house remix and includes very few elements of Seemann, namely the bird chirping sample and the intro bassline which appear in the bridge only.
The song Der Meister was also included as b-side, listed with 04:10 in the tracklist, but one minute of silence was added to the end of the song, making it 05:10.
There was also a misprinted version of the single, where the Seemann length is written as 05:00. All versions of the single include the standard album version with length of 04:48.
The artwork consists of a photo taken during Seemann videoshooting, and it features Oliver Riedel with a headless bass, standing next to a boat on sand known from the video, with a star-lit sky in the background.
The single was released in a jewelcase or a slimline.
There was also a promotional version of the single titled Seemann / Der Meister that came in a cardsleeve that featured only a black band logo with a flower on a white background.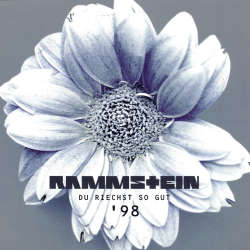 Du riechst so gut '98
Apr 17, 1998
1.

Du riechst so gut '98

4:24

2.

Du riechst so gut


Remix by Faith No More

1:58

3.

Du riechst so gut


Remix by Günter Schulz (KMFDM) & Hiwatt Marshall

4:07

4.

Du riechst so gut


Remix by Sascha Konietzko (KMFDM)

4:47

5.

Du riechst so gut


Remix by Olav Bruhn (Bobo In White Wooden Houses)

4:45

6.

Du riechst so gut


Remix by Sascha Moser (Bobo In White Wooden Houses)

3:53

7.

Du riechst so gut


Remix by Jacob Hellner / Marc Stagg

4:34

8.

Du riechst so gut


"Migräne"-remix by Günter Schulz (KMFDM)

5:18

9.

Multimediatrack : originalvideo "Du riechst so gut '95"
After gaining a lot more success, also international, with the album Sehnsucht, the band felt, that Du riechst so gut was not really recognized as much as it deserved. So the band decided for a second, remastered and edited release of the single.
Seven remixes of the song were contributed to the single by Faith No More, Günter Schulz (KMFDM), Sascha Konietzko (KMFDM), Olav Bruhn (Bobo In White Wooden Houses), Sascha Moser (Bobo In White Wooden Houses) and Jacob Hellner & Marc Stagg.
It's worth mentioning that the track 6, a remix made by Sascha Moser features vocals by Christiane Bobo Hebold known from guest vocals on Engel, Alter Mann (Special Version) and Nebel.
The single was also the first official release of the original Du riechst so gut video from 1995.
The direct translation of Herzeleid is heartache; however, according to an interview on Talking Metal's podcast in 2007, Richard Kruspe stated that it doesn't translate to Heartache, but in the German language, it simply means heartbreak. The album is a culmination of the relationship troubles of all but one of the six band members, hence the title Herzeleid.
The album was originally going to just be named Rammstein. This is evidenced from their old demo tapes referring to the album as Rammstein (Demo-Version), as well as the A Journey Into Sound IV Tape 1, which has the following text on its artwork: Rammstein - Rammstein (taken from the forthcoming album Rammstein).